YES 2 Cloud
The YES2Cloud program will allow clients to access free cloud technology training, earn badges and certificates, and access entry-level or advanced cloud jobs.
The world is changing, technology is advancing, and this means the job market is changing too…
the youth unemployment rate has recently risen to over 30%
there is a shortage of cloud technology trained professionals
there are 500,000 unfilled jobs in this sector
873,000 young people have been put out of work since COVID-19 forced the closure of large swaths of public life in mid-March with the youth unemployment rate jumping to 27.2% in April. But this crisis has also created opportunities, with the demand for cloud computing services increasing astronomically. There is a need for a skilled pool of candidates to fill these jobs. Working in partnership with Amazon Web Services, SAS and IBM, we will be able to provide youth with access to free online training where youth can learn about key tech skills, build in the cloud, and earn digital credentials. Youth will also have access to cloud computing specific job boards through our partners.
YES2Cloud will empower youth to access relevant cloud opportunities and to gain employment. This program will provide you with the skills needed to succeed today, and in the future, and provide you with in-demand tech training and access to in-demand jobs.
YES has partnered with three online cloud training platforms which include:
Eligibility Requirements
YES2Cloud is for clients who:
– Are a YES client
– Are interested in tech
– Have a willingness to learn about cloud computing
– Are interested in entry-level or advanced cloud jobs
– Must have access to a laptop and strong and stable Wi-Fi connection
To register for YES2Cloud, please connect with your Career Counsellor or Job Developer.
For more information, contact Chantelle Oosterhuis chantelle_oosterhuis@yes.on.ca.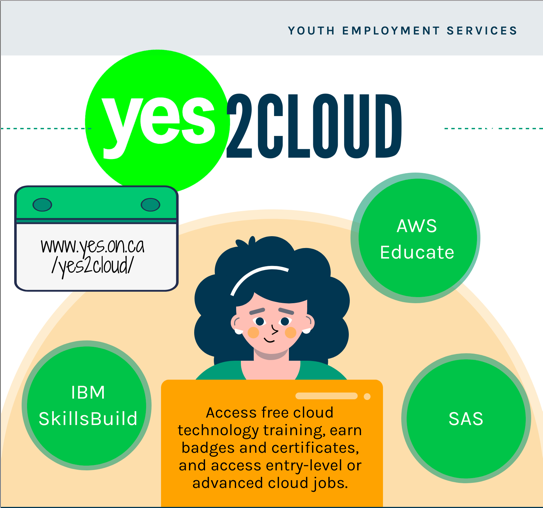 To become a YES client, call 416-504-5516 or Contact YES online It's FREE!
Contact YES