YES takes charge in supporting young entrepreneurs across Canada
New curriculum aims to empower youth interested in starting their own businesses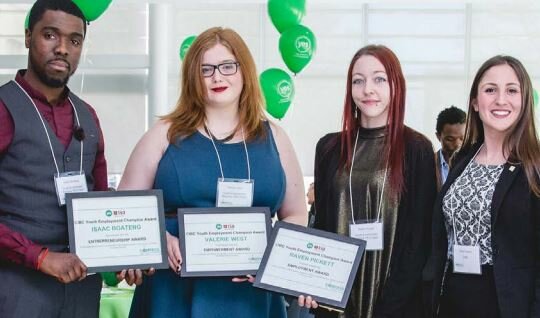 TORONTO— July 31, 2019 — Youth Employment Services (YES), announced today the launch of a new entrepreneurship program curriculum, which will increase youth employment, build prosperity, safer stronger communities and change lives. Developed by YES with the financial support of the Citi Foundation, the curriculum marks YES' latest innovative initiative to help achieve their mission of empowering youth through employment.
There are more than 860,000 Canadian youth between the ages of 15 and 29 who are not working, studying or in training*. While many young people are interested in pursuing entrepreneurial opportunities, at-risk youth, such as low-income and immigrant youth, struggle to access the start-up money and may lack the social capital of their peers. The new curriculum helps youth start their own business and gives them the tools and mindset to succeed.
Created by YES to specifically support disadvantaged and vulnerable youth, this latest curriculum includes eight modules which have been designed and tailored to the Canadian business climate and recent technological advancements, including:
Entrepreneurship 101
Creativity, innovation and opportunity identification
Emotional intelligence for entrepreneurs
Digital literacy for entrepreneurs
Business planning for entrepreneurs
Financial management for entrepreneurs
Marketing for entrepreneurs
Social media for entrepreneurs
The YES entrepreneurial curriculum will benefit youth in the GTHA and will be shared with organizations across Canada through the YES on Demand! knowledge transfer and training program.
"Changing lives through employment in the GTHA and across Canada is at the core of everything we do at YES," says Timothy Lang, YES President and CEO. "This innovative new entrepreneurial curriculum builds on our 50 years of success in helping disadvantaged individuals find meaningful employment. We're thrilled that so many people want to go into business for themselves and that we're able to offer the tools to help them succeed as entrepreneurs."
The partnership between YES and Citi is part of Citi and the Citi Foundation's global Pathways to Progress initiative, which aims to invest US$100 million to connect 500,000 young people around the world, ages 16-24, to training and jobs by 2020.
"Unlocking entrepreneurship opportunities empowers young people to overcome barriers to employment," said Florencia Spangaro, Director of Programs at the Citi Foundation. "The innovative curriculum that YES has created will not only connect young people to the tools and resources they need to start their businesses, but it will also empower non-profits and accelerate youth entrepreneurship training across the country."
In celebration of the launch of the new curriculum, YES will be hosting an event on Wednesday, August 14 at the Toronto Board of Trade. The event will serve to not only showcase the new curriculum but to celebrate the work YES has and continues to do in the community.
* Now Hiring: The Skills Companies Want that Young Canadians Need" Skills Connect Civic Action Report
About Youth Employment Services
YES believes that employment is empowerment and the cornerstone of safe and healthy communities. YES leads the Canadian youth sector with innovative programs that empower disadvantaged and vulnerable youth to become self-sufficient contributing members of society. Over the past 51 years, YES has led the Canadian youth sector and helped hundreds of thousands of youth with innovative programs that have empowered disadvantaged and vulnerable youth to become self-sufficient contributing members of society through employment. For more information on YES, please visit www.yes.on.ca
About Citi Foundation
The Citi Foundation works to promote economic progress and improve the lives of people in low-income communities around the world. We invest in efforts that increase financial inclusion, catalyze job opportunities for youth, and reimagine approaches to building economically vibrant cities. The Citi Foundation's "More than Philanthropy" approach leverages the enormous expertise of Citi and its people to fulfill our mission and drive thought leadership and innovation. For more information, visit www.citifoundation.com
Media Contacts:
Brittany Ballentine, PUNCH Canada: Brittany@punchcanada.com – 647-725-9731
Emily Wilchesky, PUNCH Canada: Emily@punchcanada.com – 647-837-1260