YES2Trades
If you are 16-29 years of age, live in the GTA, and dreaming of being a painter? YES2Trades is the right program for you!
New!! Online applications can now be made HERE
Program Overview:
8 weeks of workshops:
1-2 week: pre-employment workshops, 3-4 week: Residential and Commercial, 5-6 week: hands on training and 7-8 week: Industrial
Participants will gain valuable skills such as:
Participants will also receive training in and have the ability to gain certifications in WHMIS, Working at Heights, and First Aid.
Applying paint or other materials such as stains, lacquer or varnish using brushes, rollers or spray equipment
Preparing and cleaning surfaces, removing old wallpaper and paint
Repairing cracks and holes in walls
Mixing and thinning paint, measuring, cutting and applying wallpaper or fabric to walls
Building and installing scaffolding
Advising customers on colour selection and choice of wall coverings
Providing cost estimates and reading specifications to determine required materials.
Eligibility:
Youth 16-29
Out of school/work
Canadian citizens, permanent residents, or people with Convention Refugee status
Participants with an active Employment Insurance claim may be eligible for a Section 25 referral under the Employment Insurance
Willing to commit to 20 weeks full time program
Located at:  555 Richmond St. W.
For further information call us at: (416) 504-5516 or email stephanie_ratnasingham@yes.on.ca or qamar_rabaa@yes.on.ca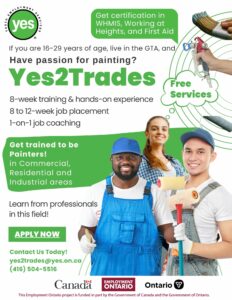 To become a YES client, call 416-504-5516 or Contact YES online It's FREE!
Contact YES