Lighthouse Project
The Lighthouse Project assists job-seekers who might be stressed or anxious about looking for or maintaining full-time (30 hours per week or more) employment.
New!! Online applications can now be made HERE
All Participants selected for the program must meet the following eligibility requirements:
Looking for full-time (minimum 30 hours a week) employment opportunities
Canadian citizenship, permanent resident, or Convention Refugee status
Legally entitled to work in Canada
Not currently in receipt of Employment Insurance (EI) benefits, or accessed EI benefits in the last 5 years
Have not worked more than 665 hours in the last 52 weeks
Delivered through small group workshops and one-on-one career counseling sessions, participants engage in:
12+ weeks of paid work placement tailored to interests, needs and background
Interview preparation – Self-care and coping skills
Job search support
Career exploration and planning
Labour market research
Resume and cover letter development
Exploring disclosure and accommodations
Managing stress at work and relapse prevention planning
Participants receive extensive help to find and maintain suitable employment and achieve their career goals. They also benefit from on-the-job support, training, and personalized coaching at every step.
If you are a social service organization or community worker and would like to refer a participant, please contact us for the referral package.
Located at:  555 Richmond St. W. Suite 1003
Corner of Richmond St. W. and Bathurst
Registration is done by referrals only (self-referrals are accepted)
For further information call us at: (416) 504-5516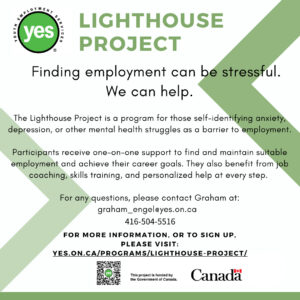 The Lighthouse Project is a partnership with The Centre for Addiction and Mental Health CAMH.

To become a YES client, call 416-504-5516 or Contact YES online It's FREE!
Contact YES